Resources
Some information and guidance
New HSE guide to inspection and testing of electrical equipment (PAT)
The HSE has recently updated HSG107, its free guide to maintaining portable electrical equipment.
This booklet gives straightforward advice and guidance to anyone that has responsibilities for the ongoing safety of electrical equipment. The guidance given is concise compared to the revised IET Code of Practice, but is considered to be consistent with it.
The HSE suggests a simple approach to risk assessing your electrical equipment to maintain safety but also to ensure that the maintenance regime is both cost and time effective.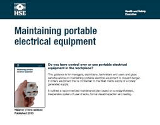 Click the above image to download your free copy.
Book hire & Purchase
Books are available for FREE hire for the duration of your course.  Please arrange this in advance so we can ensure we have sufficient copies.  Alternatively, you can purchase your own copy.  Please click the below link for full details on books available and prices.