2382-22 18th Edition Amendment 2 (3-day Full course)
Awards
Duration
3 Days
Cost ( EX. VAT)
£419
| Course Date | Exam Date | Venue | Availability | Booking |
| --- | --- | --- | --- | --- |
| 2382-22 18th Edition Amendment 2 - Mon 11th - Wed 13th Dec 2023 | Dec 13, 2023 | Stoke on Trent | PLACES AVAILABLE | Book Now |
| 2382-22 18th Edition Amendment 2 - Mon 15th - Wed 17th Jan 2024 | Jan 17, 2024 | Stoke on Trent | PLACES AVAILABLE | Book Now |
| 2382-22 18th Edition Amendment 2 - Mon 19th - Wed 21st Feb 2024 | Feb 21, 2024 | Stoke on Trent | PLACES AVAILABLE | Book Now |
| 2382-22 18th Edition Amendment 2 - Mon 25th - Wed 27th March 2024 | Mar 27, 2024 | Stoke on Trent | PLACES AVAILABLE | Book Now |
| 2382-22 18th Edition Amendment 2 - Mon 22nd - Wed 24th April 2024 | Apr 24, 2024 | Stoke on Trent | PLACES AVAILABLE | Book Now |
| 2382-22 18th Edition Amendment 2 - Wed 29th - Fri 31st May 2024 | May 31, 2024 | Stoke on Trent | PLACES AVAILABLE | Book Now |
| 2382-22 18th Edition Amendment 2 - Mon 24th - Wed 26th June 2024 | Jun 26, 2024 | Stoke on Trent | PLACES AVAILABLE | Book Now |
Course Description
For practising electricians and domestic installers who want to enhance their understanding of IET wiring regulations and stay compliant with all current standards, the 18th Edition training course from Rebus Training offers a complete package. Across a 3-day training course, you'll learn everything there is to know about BS7671 by industry-trained experts who are all professional electricians as well as skilled tutors. This course is the latest City & Guilds 2382-22 18th Edition Amendment 2 qualification and is essential for anyone working in the electrical industry.

The City & Guilds 2382-22 is:
* Industry approved
* A requirement for Registered Electricians on the ECS card scheme
* Highly rated by employers An essential requirement of many leading bodies including NICEIC, ECA and NAPIT
* Key to enhancing your job prospects
* An ideal way to keep up to date with current industry procedures and practices
Overview
About this 18th edition training course.
You will be guided through BS7671 by one of our industry trained experts. We pride ourselves on our friendly yet professional approach to training which helps us to regularly achieve 100% pass rates on this 3-day 18th edition training course.
You will learn to relate to and understand the regulations through discussion of job-based scenarios and regular sample tests.
You will use the wiring regulations throughout the course and learn how to navigate the book. This will place you in an excellent position not only for your exam but for your working career to help you to promptly find the information you need.
Who is it suitable for?
For Electricians, Electrical Contractors, Domestic Installers and other allied professionals who need to demonstrate an understanding of BS7671.
What's included?
FREE hire of BS7671 18th Edition Amendment 2
All City & Guilds fees – no hidden costs!
Refreshments
A unique an friendly learning environment!
Course entry requirements?
There are no formal entry requirements for this qualification, however, you will need a basic knowledge of electrical science and a working knowledge of electrical systems.
What's next?
After completing this course you may wish to consider:
City & Guilds 2391 Inspection & Testing
City & Guilds 2396-01 Design and Verification
Assessment
At the end of your 2382-22 course, you will complete a computer-based multiple-choice exam. This exam is open book so you will be able to reference to a 'clean' copy of BS7671 (brown book) throughout.
Exam Specification
| | |
| --- | --- |
| Duration | 2 hours |
| Number of questions | 60 |
| Question type | Multiple choices |
| Permitted reference materials | BS7671 18th Edition Amendment 2 (brown book) |
| Other allowed materials/equipment | Plain paper, pens and non-programmable calculator |

On completion of the exam, you will normally receive a printed result slip within just a few minutes. Assuming you have been successful, a certificate will be available within 7 days of completing the course.
What happens if I fail an assessment?
Most candidates pass this test at the first attempt, but occasionally some people do fail for a variety of reasons. Don't worry - there's plenty we can do to help.
Often all you'll need to do is retake the exam after you've had a look over your notes with your tutor. We'll help guide you through the mistakes and if required, agree on extra 1-1 training.
Whatever happens, we want you to enjoy our courses and come away with the qualification that you wanted. Our tutors and staff will always be there to support and advise you.
Resources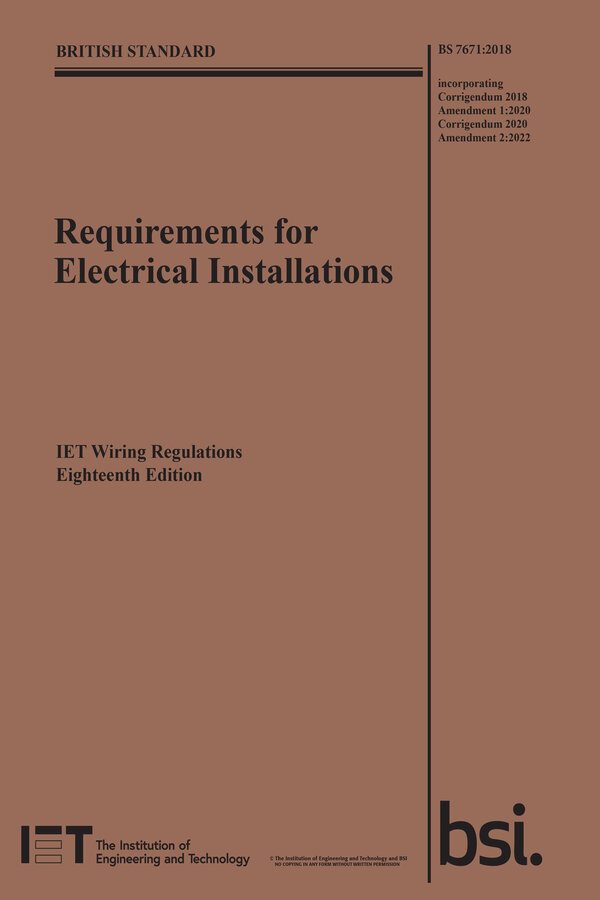 IET Wiring Regulations – BS7671:2018+A2:2022 18th Edition Amendment 2

Order now Order now
Reviews


A massive thank you for helping me pass my 18th addition. I was impressed as soon as I walked in the door, you've got a great facility and the course content was delivered particularly well – all credit to Jake
-
Richard Catlin


Comfortable and relaxed training approach which has always encouraged me to return. Excellent Tutor
-
Steve Dixon


Well organised and great knowledge
-
Dan Maddox
Tutors
Keith Martin
Electrical Tutor and Assessor
Keith is a highly experienced electrician with over 25 years of experience with the local electricity board.
More recently, Keith has worked as a self-employed electrician and electrical trainer.
A fully qualified tutor and assessor, Keith now delivers a number of our courses, including 18th Edition and Domestic Electrical Installer courses.
Shaun Eardley
Electrical Tutor/Assessor and Quality Assurer
Shaun is a qualified tutor and assessor with a wealth of experience in the electrical contracting industry.  Having run his own business and worked for some established contracting companies, Shaun is well placed to add 'something extra' to his course delivery.
Shaun is a very approachable trainer and can relate training sessions to customers work, making it more enjoyable and easier to learn. Shaun specialises in 18th Edition, Electrical Design and Apprenticeship course delivery.
Simon Hodgkiss
Electrical Tutor and Assessor
Simon trained as an electrician with NORWEB and has accumulated a wide range of experience working predominantly in the industrial sector.
Simon has worked as an engineer in several production environments learning skills in both electrical and mechanical disciplines.
Simon delivers a range of our courses such as 18th Edition, Electrical Duty Holder, Authorised Person and Electrical Maintenance.