2382-22 18th Edition Amendment 2 Online (Full course)
Awards
Duration
20 Hours
Cost ( EX. VAT)
£349
| Course Date | Exam Date | Venue | Availability | Booking |
| --- | --- | --- | --- | --- |
| 20 hours self-paced course | By Appointment | Online Course | PLACES AVAILABLE | Enquire Now |
Course Description
Study 18th Edition online wherever you are
Looking to get your City & Guilds 18th Edition certification? Study online from anywhere with this online course here at Rebus Training. It's a 20-hour package that will get you up to standards and is fully updated and referenced to Amendment 2 of the 18th Edition Wiring Regulations BS7671:2018+A2:2022 (brown book).
This online course provides the ideal way to learn in your own time and at your own pace, with learning materials and mock exams to get you ready for the real thing. If you were to fail for any reason, we include a free resit at our training centre in Stoke for a risk-free way to get up to 18th Edition standards.
Wherever you are, study to suit your own lifestyle with this online course.
The 
City & Guilds
 2382-22 18th Edition qualification is essential for anyone working in the electrical industry and is:
Industry approved
A requirement for Registered Electricians and all new ECS Gold card applications
Highly rated by employers
An essential requirement of many leading bodies including NICEIC, ECAand NAPIT.
Key to enhancing your job prospects
An ideal way to keep up to date with current industry procedures and practices
Overview
About this course 18th edition online course
You will complete the course at time convenient to you and at your own pace. The course is completed online and is split into small manageable and interactive units. You will learn through a combination of visual/audio presentations, exercises, tests and videos. You can complete each section of the course as many times as you like making sure that you are able to answer all session tests correctly.
After completing each part of the course, you will have a good understanding of BS7671 and will be able to navigate the book effectively. You can then attempt a full 60 question 2-hour practice test to confirm that you are exam ready. To improve your exam technique and check your knowledge there are three separate 60 question  practice tests that you can attempt multiple times.
Following successful completion of all units and tests within the course, we are confident that you will pass this exam at the 1st attempt. Therefore, if required, we will give you a FREE resit at our training centre in Stoke on Trent!
Support is available throughout your course by phone, email, video chat and those that are local can call in to our Stoke on Trent training centre for support.
Who is it suitable for?
For Electricians, Electrical Contractors, Domestic Installers and other allied professionals who need to demonstrate an understanding of BS7671.
What's included?
City & Guilds / IET online learning course
All City & Guilds fees – no hidden costs!
Professional and friendly support
1 free exam resit if required
Course entry requirements?
There are no formal entry requirements for this qualification, however, you will need a basic knowledge of electrical science and a working knowledge of electrical systems. You will also need a current copy of BS7671 (brown book) to complete your online studies and City & Guilds examination.
What's next?
After completing this course you may wish to consider:
City & Guilds 2391 Inspection & Testing
City & Guilds 2396-10 Design and Verification
Assessment
At the end of your 2382-22 18th edition course, you will complete a computer-based multiple-choice exam at our training centre or an authorised City & Guilds centre. This exam is open book so you will be able to reference to a 'clean' copy of BS7671 throughout.
Exam Specification
| | |
| --- | --- |
| Duration |      2 hours |
| Number of questions |      60 |
| Question type |      Multiple choices |
| Permitted reference materials |      BS7671 18th Edition Amendment 2 (brown book) |
| Other allowed materials/equipment |      Plain paper, pens and non-programmable calculator |
On completion of the exam, you will receive a printed result slip within just a few minutes. Assuming you have been successful, a certificate will be available within 7 days of completing the course.
Normally you will complete your exam at our City & Guilds approved training centre in Stoke on Trent. If you live further afield, we will work with you to find a local venue or you can even sit the exam in the comfort of your own home.
What happens if I fail an assessment?
Most candidates pass this test at the first attempt, but occasionally some people do fail for a variety of reasons. Don't worry - there's plenty we can do to help.
Often all you'll need to do is retake the exam after you've had a look over your notes with your tutor. We'll help guide you through the mistakes and if required, agree on extra 1-1 training.
Whatever happens, we want you to enjoy our courses and come away with the qualification that you wanted. Our tutors and staff will always be there to support and advise you.
Resources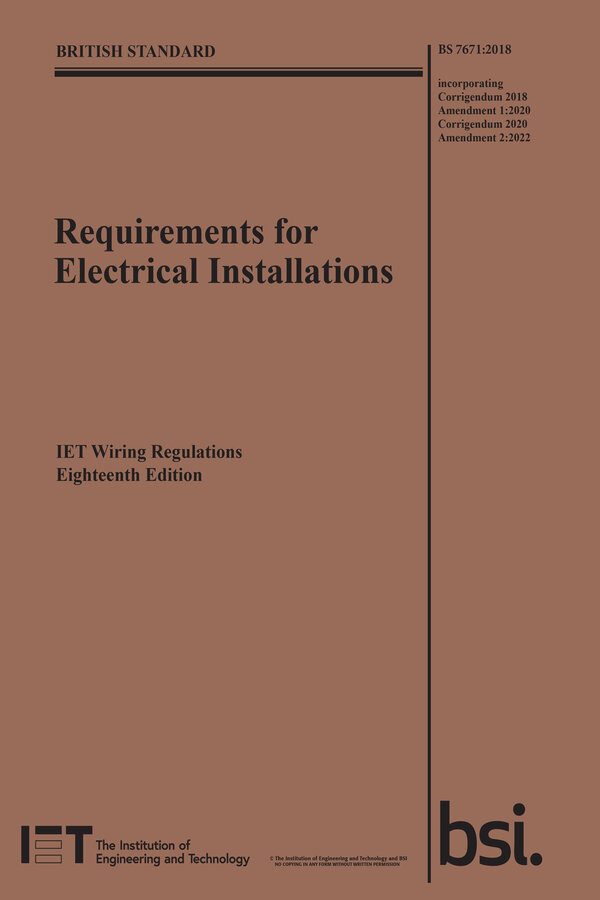 IET Wiring Regulations – BS7671:2018+A2:2022 18th Edition Amendment